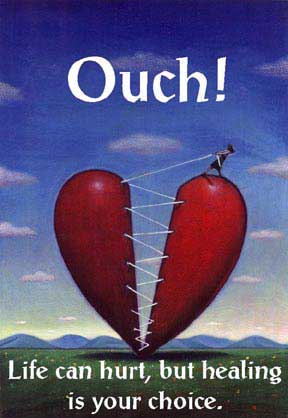 It is a positive, solution oriented book that takes a multi-dimensional approach which empowers people to heal from tragedy.

You can make it work or
you can make it worse!

We cannot direct the wind,
but we can adjust the sails.
"Ouch! gives you permission to feel and to be honest about your pain. It allows one to say that 'I'm not the only one...I'm O.K.' Ouch! helps one to accept what happened to them and to choose to process the pain and continue down the road of life."
Pearl Jett, BSW (Bachelors in Social Work)
"Brilliant work by a strong individual that can open the mind and encourage one's soul. It is an inspirational piece that can lift one's head to the heavens above."
Jessica Wilson - High School Senior
"Ouch! is a wonderful book. It will serve as a friendly guide for
anyone who has experienced grief and pain."
William G. Crook, M.D. - Author of many best sellers including "The Yeast Connection."
Proceeds will go to Battered Women's Shelters.
---
Positive Qualities
Since experiencing tragedy and healing, I found myself encouraging, counseling, and helping people process their pain. It became apparent that I was given a unique insight to tragedy and healing. So after strong encouragement from many people, I finally put all my counseling and experience in writing. I have given my manuscript to over a hundred people who have experienced incredible tragedies. Each of them has told me that this book has helped them more than any published book. The name of the book is Ouch! and the subtitle is "Life can hurt, but healing is your choice." The strong points of this book are as follows:
It is very short and to the point. Most people in pain can hardly read one page, let alone 500 pages. Therefore it is written in outline form with lots of white space. So when someone opens the book, they can see that it is "reader friendly". It is only a hundred pages long and takes approximately forty-five minutes to read.

Most importantly the book focuses on the solutions rather that the problems. Personally, I got very frustrated while reading other books. The majority talked about "Billy and Suzie's problem" for the better portion of the book. Finally near the end of the book some solutions were mentioned. On page one of my book you will find a solution. Moreover, it is probably one of the most important ones at that.

I believe that each person should have ownership to their lives, pain and healing. Therefore, I have provided some space after every chapter so that each person can have a sense of their own identity throughout the book. Immediately each individual can make their own observations, draw conclusions, and start tailor making their own solutions. In other words, starting their healing process, while reading the book.

Ouch! does not require reading it from cover to cover in order to benefit from it. One can skip around and focus on what is pertinent in their life at that particular time. However, I do recommend that it be read cover to cover at some point in time.

The book is divided by sections and has instructions on how to use it.
Part 1- Surviving a Crisis
Part 2- Multidimensional Healing
Part 3- Moving Forward
Part 4- Abuse and Abandonment
This is very important for people who are experiencing intense pain. For the most part they need to be held by the hand and led through it. Most people find it hard to finish even the simplest of tasks. So the pressure is taken off them when they realize that they only need to read part 1, which is a total of thirteen pages. Moreover, part 1 has the most white space. This way the reader will succeed in reading it and find the strength to finish the rest of the book.

The book is written in a very relaxed style so as to reach people of all ages and backgrounds.

Multidimensional Approach - Many people tend to focus on certain dimensions of their life, therefore ignoring some very important aspects. Ouch! takes a multidimensional approach to healing. It places equal emphasis on all of the dimensions: Social, emotional, physical, spiritual, occupational, and intellectual. Balance is the key to life, and the healing process also.

Finally, this book is written by a compassionate Christian woman. Ouch! offers a refreshing difference from most other books written by Christian authors. It is uplifting to read for people from all walks of life. Moreover it is non-preaching, all-inclusive, accepting, and non-judgmental. It teaches people to be honest with themselves, others, and God about how they are feeling, instead hiding behind their spiritual mask. Therefore the title of the book. Ouch!