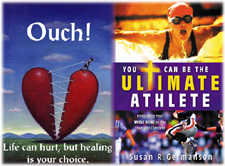 Athlete: Fundraising Ideas
Dear Group Fundraising Leader,
For various groups like Athletic Teams, Churches...selling the book "You Can Be the Ultimate Athlete" will make a great fundraiser. I will provide you with a 40% discount on orders for five or more copies. Your group can sell the books for the original retail price, therefore raising money for your program. Feel free to re-order if you have sold all of your books.
If you wish to place a fundraising order, please print and mail in this form.

For other questions contact:
Susan Germanson
3753 46th Ave S #2
Saint Petersburg, FL 33711-4400
Phone: 727.242.0602

You can email me by using this form, please click submit only once:


---
About | Presentations | Ouch | Athlete
© 2004 - 2009 Ouch!