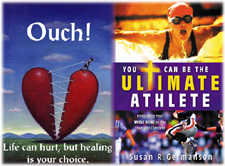 Presentations: Recommendation
Susan Lehrer
Business and Professional Women
865- 118th Lane NE
Blaine, MN 55434
July 2, 2001
To Whom It may Concern:
As the Immediate Past State President of the Minnesota Federation of Business and Professional Women (BPW), I wholeheartedly recommend Susan Germanson for any organization that is looking for a dynamic, passionate and knowledgeable speaker. Her enthusiasm and passion to make a positive difference is contagious.
Susan was one of the speakers at the BPW state convention held in Duluth in May 2001. She spoke on becoming a positive change agent. She had a tough challenge in speaking to an audience shortly after lunch. Her gift of engaging the audience proved to be successful preventing anyone from nodding off to sleep in the audience. I heard many positive comments from those in attendance.
If you have any questions, please contact me at (763) 755-7331 or e-mail me at stillstamping@yahoo.com.
Sincerely,
Susan M. Lehrer
Immediate Past State BPW President
---
About | Presentations | Ouch | Athlete
© 2004 - 2009 Ouch!